Generate surface meshes from DICOM RT contours and structures.

Amazing for 3D printing and modeling
Multiple Export Formats
Export surface meshes and contours in PLY, STL, DXF, OBJ, and GDML formats. Easily import into any CAD package.
Customise Appearance
Override DICOM RT structure set colours, and transparency. View just the reconstructed surface, mesh wireframe, or original contours.
3D Viewport
Zoom in on features of interest, and view the geometry from any angle. You can even switch between predefined orthogonal views.
Mesh Generation
For 3D printing, and simulation geometry watertight meshes are best.
With Contour Exporter you can choose exactly which ROIs to generate meshes for, and specify the right reconstruction resolution for your application.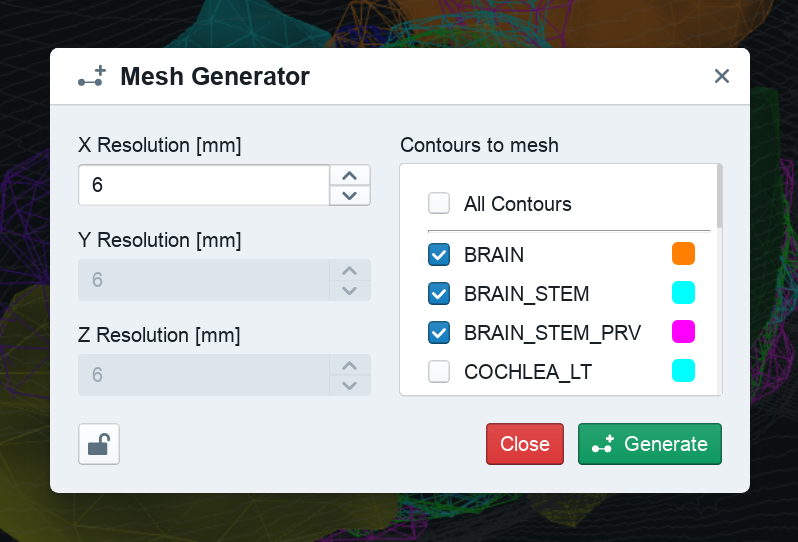 Getting Started
The first time you use Contour Exporter
Just the basics. Learn how to install and activate Contour Exporter, and open your first DICOM structure set.
Generating Meshes
This is what we're here for
Generate surfaces from contours in DICOM structure sets which you can use for 3D printing for 3D modeling.
Appearance Options
Customize the visual appearance of your meshes.
Don't like the contour colour? Learn how to customise the appearance of the scene.
Exporting Data
Save meshes in the format you need.
Save point clouds and meshes in a variety of formats. We show STL and DXF files loaded directly into CAD programs.